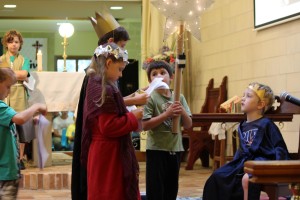 Children
At St John the Evangelist we love to see and engage children and young people in the worship of God. We baptise around 50 children per year and have an ever growing number of children and young families in our congregation.
At our 10am Mass we run a 'kid's church' that follows the lectionary of the Church. The children are with us at the beginning of worship and leave after the readings to go to the activities run by our kid's church team. We aim to have them back in the church in time for the Eucharistic prayer so that they can, from an early age, develop a love of - and connection to - the Blessed Sacrament.
Children are also encouraged to serve as acolytes at our 8am Mass, and are seen as a vital part of our church community. We work on the maxim that the only thing worse than noisy children in church is no children in church! So please, don't be self conscious of children making noise, just help them to join in with what we are doing.
We take the safeguarding of children very seriously at St Johns, after all Jesus showed a great concern for how children ought to be loved and treated. All people engaged in ministry with children are Working With Children Checked (as required under NSW law), and undertake Safe Ministry training every three years. Most volunteers are parents of children who are involved in these activities, and some are retired school teachers! No adult is left in sole charge of any child who is not their own at any time.