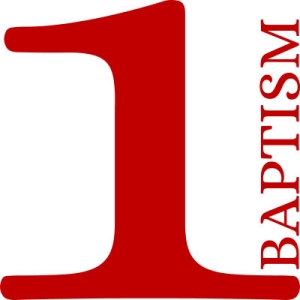 We Believe …
Baptism, the sacrament whereby we become members of the catholic church, is for us a very important part of our life together. Baptism and Reconciliation are the two sacraments which may be inferred from the Ancient creeds.
In the Nicene Creed, which we declare in our Eucharistic Liturgies, declares 
We acknowledge one baptism for the forgiveness of sins.
This in part finds authority in Ephesians 4:4-6
There is one body and one Spirit, just as you were called to the one hope of your calling, one Lord, one faith, one baptism, one God and Father of all, who is above all and through all and in all.
The Door of the Church
In many classic Cathedrals and ancient Parish Churches the font (where Baptism normally takes place) is either just inside the door, in the narthex, or even just outside. The positioning of the font by the entrance was to underline our understanding of this sacrament as the means by which we become part of God's plan for the redemption of the world.
Some contemporary practice has also located the font in or close to the sanctuary, perhaps on the platform leading up to the sanctuary. This perhaps is to remind us of the sacramental nature of Baptism and underscore its importance for us.
Sacrament
The Sacraments are objective and effective signs of the continued presence and saving activity of Jesus Christ our risen Lord among his people. They are a means by which his grace is received.
For a long time there was a drill which was rammed into confirmation candidates "A Sacrament is an outward and physical sign or an inward and spiritual grace".
As you drive along the average highway, or suburban street, you are likely to see many signs. Some of these signs declare things - 'Joes Bread Shop' - 'Lets go there' - 'Sturgeon Street' and some of them point to things 'Taree' or 'Newcastle'. 
In Baptism we declare that Jesus Christ is Lord, and God declares that we are his. In Baptism we point to, and are pointed to, the Kingdom of God, the forgiveness of sins, peace and reconciliation.   
Why we can not rebaptise
Sometimes people who may have been baptised as infants and wander off, come back later in life and in some sense want to renew their commitment, and others who have perhaps been part of some other worshiping community join us, and seek to express that. We are committed to the notion of one Baptism, it is Scriptural, it is in the Creeds, it is the tradition of the Catholic Church. The sacrament of Confirmation may well offer a much more meaningful way of giving strength to a renewed commitment.
The essential elements of baptism are water and the threefold name. Christ died and rose again to save us, once for all time, once for all people. There is no qualitative assessment on a baptism done here or there, baptism is baptism, and we acknowledge one baptism. Therefore for us who choose to remain true to the faith once delivered to the saints any suggestion of rebaptism flies in the face of what we believe. 
Christian not Anglican
We do not baptise you as an Anglican, we baptise you into Christ. Fundamentally what is at issue here is that God is at work in the sacrament, and it is not an institutional sacrament. Any suggestion of rebaptism is to suggest that God was not at work in the sacrament, and in reality to deny what we profess in the Nicene Creed.