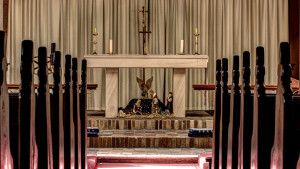 At St John the Evangelist we see funeral ministry as an extension of God's love for the community. In offering space where God's people can explore life's great transition we seek to point towards the great hope we have in the resurrection.
Funerals can be preplanned in advance by completing the Funeral Arrangement Form RT. This allows one to shape the funeral service to reflect one's wishes. Funerals for recently departed loved ones can be arranged by contacting Fr Chris directly, or through one of the local funeral directors such as Fry Bros: 4983 1644; or Lance Boots: 4987 2101.
Funerals are a bitter-sweet time where we try to hold three things in balance:
1. The celebration of a life lived.
Funerals give an opportunity to mark the inspiration and comfort we have received from the sacrifices made by our departed loved ones. It is when lives have interacted that we make friendships, and nurture relationships. This is to be celebrated.
2. The mourning of loss. Precisely because we have loved and been loved, the death of our loved ones causes us great pain and sadness, no matter how old a person was when they died. Jesus himself wept over the death of Lazarus his friend; and grieving is a necessary and important part of life and death. Queen Elizabeth II famously said that "Grief is the price we pay for love.".
3. We have a great hope of resurrection to eternal life. Through the dying and rising of Christ, and baptism into his life and death, we claim a great hope that in dying we are born to eternal life. Eternity is a very hard concept for us to grasp because we are limited by time and space. The closest we can come to understanding eternity is to enter deeply into love. Love is not bound by time and space, it is an eternal way of being. This is why we can love people still even though they have died. "Love never ends", says St Paul, and by living in love we enter into that eternal realm, because God is love.
St John the Evangelist also run a catering team and we have an air-conditioned function room attached to the church. If you would like us to cater for the funeral then please say so to Fr Chris and the necessary arrangements can be made.