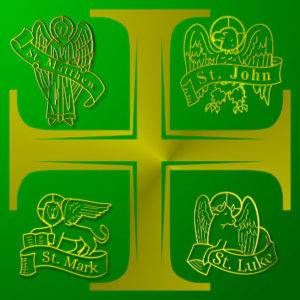 Lectionary
In our services we read from the Lectionary. This is a program of reading the whole of Scripture over time rather than simply focussing on our favorite bits. The Lectionary follows the church seasons and feasts, and helps ensure that what we offer in worship is a cohesive whole.
What is the Bible?
The word 'Bible' comes from the Greek βιβλία which means 'The Books' or perhaps 'The Library'. 
It is a collection of writings from perhaps 1000 BCE (relying on much older oral traditions) and up towards the end of the first century.
We have the

Old Testament (The law and the prophets and some wisdom writing),
The Deuterocanonical texts  which seem to largely sit between the Old and New Testament Period
The New Testament (including 4 Gospels, The first book of Church History, Some Letters and the Apocalypse)

In scripture we read and embrace the tradition of faith for the people of faith.
We can be challenged, supported, edified, motivated, and sometimes maybe even shocked.
We receive scripture as the Record of the revelation of God.